How many nights have you spent trying to ease your baby's earache? How many days have you had to miss work because your child's ear infection kept him home from school? If you are like most parents, the answer is too many. But what can you do about it? The first step is to learn as much as possible about this common childhood condition – and the article below is a great place to start.
Lucky is the parent who has never spent a sleepless night trying to soothe a child with an ear-ache-and probably non-existent. In fact by their first year of life, about half of all children have had at least one ear infection and 20 percent have had more than three. As a child nears the age of three, those numbers increase dramatically. The bad news: A child who has had an ear infection before his or her first birthday is likely to have repeated bouts over the next five years. But while knowing how prevalent childhood ear infections are may not diminish your distress, learning more about how to identify and treat them can help.
Why Ears Get Infected
When a child has a cold or allergy the Eustachian tubes, which join the throat and the middle ear, may become infected and swollen. The tubes are then unable to properly drain fluid from the middle ear. When fluid builds up, painful pressure and a middle ear infection, or otitis media, may result. Since the Eustachian tubes of babies and children are smaller and shorter than an adult's and almost horizontal (they're more vertical in older children and grown-ups), it's easier for fluid to build up behind the eardrum, giving bacteria an ideal home. Some studies have shown that middle ear infections occur more in children with allergies, due to excessive mucus production. Ask your doctor about prescribing an antihistamine or decongestant during allergy season, but keep in mind that these drugs aren't useful once infection sets in.
Many other factors can make a child more prone to frequent ear infections. Just being male is one. Although researchers don't know why, middle ear infections are up to 70 percent more common in boys than in girls. Chronic exposure to cigarette smoke also appears to play a role. Young children are more susceptible to infections in general because their immune system is not as developed as an adult's. Children under one who spend time in a group setting, such as a day-care facility, may get more ear infections since they are exposed to more germs.
Signs and Symptoms
Pain. The classic symptom of an ear infection is pain. A child who is not old enough to tell you that his or her ear hurts may pull at the ear and cry. Babies with ear infections may cry more during feedings, since sucking and swallowing cause painful pressure changes in the middle ear. Being horizontal impacts ear pressure too, so a baby with an ear infection may have trouble sleeping.
Fever. Ear infections often are accompanied by an elevated temperature ranging from 100 to 104 degrees F.
Discharge. Blood-tinged yellow fluid or pus may drain from the infected ear as a result of a small perforation in the eardrum. This usually heals on its own, but describe any discharge to your pediatrician.
Hearing Loss. All ear infections are accompanied by some temporary hearing loss which is restored once the fluid drains. In children younger than three, hearing loss for more than six weeks may result in delayed language development. If there is any evidence of such a delay, consult your pediatrician. An evaluation of speech and language development may be necessary. Children who have had multiple ear infections are more likely to suffer hearing loss. If your child has had more than six ear infections in the course of a year, ask your pediatrician if a hearing test is warranted.
Treatment Options
If you suspect your child has an ear infection, call your doctor or pediatrician as soon as possible. Resist the urge to treat your child on your own with over-the-counter medications.
To treat a middle ear infection, your doctor will prescribe an antibiotic, generally amoxicillin. Some antibiotics come in flavored liquids or chewable tablets. Be sure to stick to the prescribed dosage schedule and complete the full course of treatment even if symptoms begin to subside. Stopping treatment too soon could allow bacteria to strike again. Your pediatrician may also recommend acetaminophen (an aspirin substitute) to alleviate pain or lower a fever, or ear drops for severe pain.
Your child's discomfort should begin to ease within three days of initiating treatment. As the infection starts clearing up, some children experience a sense of fullness or popping in the ears. This is normal and not a cause for concern.
Once your child is feeling better, there's no need for him or her to stay at home if there's someone at school or day care who can administer the medication properly. All medication should be clearly labeled with your child's name and the proper dosage and kept separate from other items.
Your pediatrician will want to see your child after he or she completes the medication regimen to check if any fluid has remained behind the eardrum. This condition, known as serous otitis, is very common: Almost six out of every 10 children still have some fluid two weeks after an ear infection has cleared up. In most cases, the fluid will disappear on its own within two months, but make sure your child is monitored until it is all gone.
Stubborn Infections
Occasionally, an ear infection won't respond to the first antibiotic prescribed. If your child's fever persists or he or she continues to complain of ear pain for more than three days, call your doctor. If the infection lingers even after other antibiotics are tried, your child may need a myringotomy, in which the fluid that has accumulated in the middle ear is suctioned out. A myringotomy is performed by an ear, nose and throat (ENT) specialist (see local ENT listings beginning on the next page). Tympanostomy tubes, or ventilation tubes, are generally inserted into the eardrum at that time to continuously drain fluid from the middle ear.
Recurring Infections
Can drugs prevent ear infections? If your child has one ear infection after another, your pediatrician may recommend prophylaxis (preventive treatment) in the form of low dose antibiotics on a long-term basis to reduce the chances of additional infections. Before you medicate, weigh these factors with your pediatrician: Researchers, including those at Case Western Reserve University School of Medicine, in Cleveland and the Harvard School of Public Health, have found that prophylactic use of antibiotics does prevent further episodes of acute otitis media. However, the U.S. Food and Drug Administration has not approved antibiotics for prophylactic use and some children do develop ear infections while on medication.
Does surgery prevent ear infections? In the past, adenoidectomies, or removal of the adenoids (tonsil-like tissue located in the upper part of the throat), were frequently performed to prevent recurring infections. But several studies have shown that removing the adenoids offers no long-term benefit. These days, are often recommended instead to prevent recurrences.
Over half a million tympanostomy tube insertions are performed each y ear, making it the most common operation in children. However, a recent study in the Journal of the American Medical Association stated that up to 27 percent of these tube insertions may be inappropriate and offer "no demonstrated advantage over less-invasive therapies." In addition, as with any surgery, complications such as perforation and scarring of the ear drum, can occur. Factors that help determine whether to insert tubes: The presence of fluid for more than three months, the number of recent ear infections, the degree of hearing loss, and the age of the child. The procedure is more likely to be performed in younger children, when hearing loss could interfere with speech development. Since these procedures usually require general anesthesia, which always involves some degree of risk, parents should discuss all of their options with their doctor before choosing surgery.
Our thanks to Jerome A. Paulson, M.D., Associate Professor of Health Care Sciences and Pediatrics, George Washington University, Washington, DC, for reviewing this article.
Inside the Ear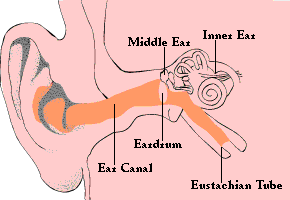 The ear is made up of three parts: the external ear, the middle ear and the inner ear. The middle ear, where most childhood ear infections occur, is a pea-sized, air-filled chamber between the inner ear and the eardrum and is connected to the throat by the Eustachian tubes.
Healthful Hints
The following steps may help avoid ear trouble at the first sign of the sniffles:
Tilt your baby's head upward during nursing or feeding. A horizontal position may cause fluid to back up into the Eustachian tubes. Note: Babies who nurse exclusively for four to six months after birth are reported to have half as many ear infections as those who do not.
Keep your child's nose as clear as possible. Encourage older children to blow their noses frequently and use a bulb syringe to gently suction mucus out of the nose of an infant or toddler who cannot blow his or her own nose.
Elevate the head of your child's bed by a few inches. This can help drain the fluid that collects behind your child's eardrums. Place something like a board or piece of foam mattress pad under the head of the mattress to raise it.
Place a humidifier in your child's room at night. Dry air can cause congestion and block the Eustachian tubes. Be sure to clean the humidifier regularly to avoid bacterial growth.
Treatment Tips
The Agency for Health Care Policy and Research, a U.S. Department of Health and Human Services Agency, has put together a list of treatments not recommended for young children with middle ear fluid.
The medicines not recommended are: Decongestants, antihistamines and steroids. Most studies show that decongestants and antihistamines used together or alone do not improve or cure middle ear fluid. There are not yet enough studies to tell whether steroids can cure or improve middle ear fluid.
The surgical treatments not recommended are: Adenoidectomy and tonsillectomy. There are not yet enough studies to tell if adenoidectomy cures or improves middle ear fluid in children younger than 4 years old. But it does seem to help older children. Tonsillectomy has not been shown to cure or improve middle ear fluid.
If your child's doctor suggests one of these surgeries, there may be another medical reason to do the surgery. If you are still unsure, you may want to talk to another health care provider.
---
For More Information
American Academy of Otolaryngology-Head and Neck Surgery
For a copy of Ear Ache & Otitis Media, send a self addressed, stamped envelope to:
One Prince Street
Alexandria, VA 22314
703-836-4444
American Speech-Language-Hearing Association
This non-profit organization can provide you with a list of certified audiologists and speech-language pathologists in your area.
1081 Rockville Pike
Rockville, MD 20852
301-897-5700